Basic elements
The basic elements of bras:
closure
straps
cups
bra bands
Other elements may be formed:
Basic elements - description
Bra hook and eye closure

is either in the front or back and, and it usually has from two to four size adjustments. Many sports bras are pulled on and off over the head, and have no closures at all.



Straps

are usually made of non-elastic fabric, or plastic material, with or without an adjuster. Sometimes they can also have stretchy straps on the back to make it easier to move.



Cups

can be made of one two or three pieces. Cups may or may not include underwire. Lace cups often have a sheer tricot lining that adds stability and reduces scratch. You can even add padding to the cups to make a push-up bra.


The

bra band

The bra band is usually made of non-elastic strap with an adjuster. Sometimes it may also be elastic.
Channeling

is usually integrated into cups, but they may also be removable.



Underwire

is typically made of plastic. In the past it used to be made of wire as well.
The basic bra styles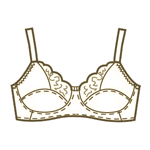 The full-band style - offers the most support. It has a continuous band that extends around the body, with the cups set into it.
The partial-band style - has a band attached at the sides of the cups, with a center-front piece or hook separating them.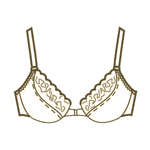 The push-up style - similar to the anatomy of the partially padded type, but there is padding at the bottom of the cups to make your breasts look larger and fuller.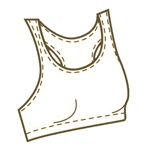 The sport style – is usually without any closure and padding, often made of only one piece of fabric without seams.
In addition to the basic bra types you may find similar features and patterns in other types of bras as well