All about women's swimwear [1]
It may not be any easier to face that moment of truth during the first swimsuit try-on of the season, but at least swimwear variety and sizing improves every year. If you need to pick the most appropriate one for you right now, we recommend that you read the following lines.
Styles
Bikini - this once-shocking style (born more than 30 years ago) is the granddaddy of fashion swimwear. Looks newest now in super-skimpy triangle, side-tie bottoms. Look for built-in push-up bras, underwire and sculpted cups for extra curves.
Tankini - a variation of the bikini, this sporty style has a longer top that leaves only a small portion of the tummy exposed. Don't want to expose your tummy at all? Go for the mock tankini.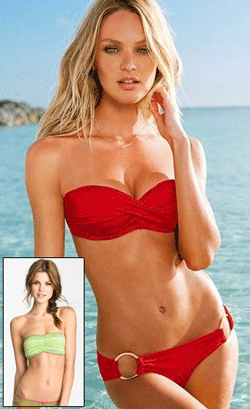 Bandini - a bikini with a bandeau (straight, striplike piece of fabric, sometimes also with cups) top.