What are stockings and how to wear them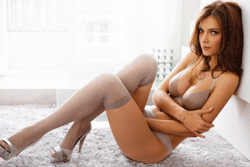 High quality tights are always an interesting piece of clothing for every woman. Stockings have been worn to provide warmth to their users for centuries and their other role is fashion related- they have been used as a fashion accessory as well. Currently, there are also available tights that gently shape your figure or other ones for medical purposes. Stockings can make every single outfit of yours complete, especially when it comes to clothes for formal occasions.

A stocking is a close fitting, mostly elastic garment worn by women which covers their feet and lower legs. Ordinarily, stockings could be held in place by the stretch fabric in which these are made. The upper band of the stockings is mostly in very fine thin silicon elastic, which resists slipping down the knee or thigh. Upper band could be plain or could have lacy designs, making them look ultra feminine. Stockings could also be held in place by garter belts. A garter is a stretch band of fabric (mostly lace) worn at the waist, with clip-ons or suspenders which hold the upper portion of the stockings, keeping it in place.
Stockings usage
As an outer wear, stockings are always worn with skirts or dresses. Stockings are great for covering blemishes and unsightly marks on your legs, they streamline and smoothen your legs and make you feel more confident of wearing styles which expose your legs. Words of caution though, ensure that the length of the dress or skirt is long enough so as not to show how the stockings are held in place. Unintentionally showing your garter suspenders or lace stay ups is tantamount to a fashion faux passé.
In the case of lingerie, however, stockings are usually worn by themselves. Teamed with other inner wear such as corsets or two piece set, stockings could be any man's fantasy.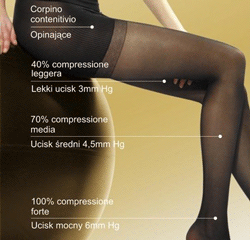 Use of stockings to help medical conditions is also becoming popular these days. Compression stockings help to control problems such as varicose veins by offering support to the feet.