Did you know, that ... ? [1]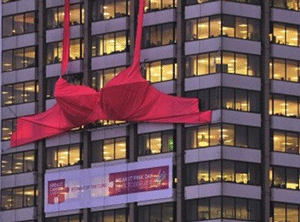 Guinness World Records has officially recognized the bright pink bra, to which the ITV Southbank building was "dressed" on Oct. 28, as the world's largest one.

The bra was part of Britain's Breast Cancer Campaign's annual "Wear It Pink" fundraiser day.

Measure under the bust is 88,5 ft. (27 m) and measure around the bust is 101,7 ft. (31 m). Technically, it's a 1222B (3104B).

(Zdroj: Guinnessova kniha svetových rekordov)
Over the last 15 years, from 1991, the average bra size has increased from 85B (34B) to 90C (36C).
The average fashion is designed for a B-cup.
Cup sizes range from AA to JJ.
Women have used bra-like devices, designed to lift, separate and restrain their breasts since as early as 2000 BC.
A bust size of 34B (85B) bounces 31/8 inches (8 centimeters) with each step when running. Encapsulated sports bra reduced breast movement by up to 73%.
The bras with underwire are prohibited in the prison because of their potential to be used as weapon!
Australian scientists have designed the Smart Bra, which adjusts its straps and cups to match how its wearer moves (perfect for the droopy strap syndrome). The bra is the brainchild of University of Wollongong researchers and lingerie maker Berlei, which hope to sell the bra commercially.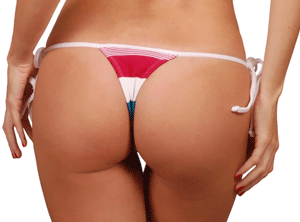 Thongs are illegal in Melbourne, Florida as of January 2005. The punishment is a $500 fine or 60 days in jail.
Looking for a new career. How about a degree in Bra Studies at the Hong Kong Polytechnic University, where you can learn how to design and build a bra.
Bra sizing was introduced in year 1932 (A, B, C, and D cups).
Married men change their underwear twice as often as single men.
Italians wear red, Argentineans wear pink, and Brazilians wear brand new underwear on New Years Eve.
Bras did not exist until 1913 when Mary Phelps Jacob tied two handkerchiefs together with ribbon.
In 1935, the first men's briefs appeared.
Panty hose, which combined panties and hose into one garment, made their first appearance in 1959, invented by Glen Raven Mills of North Carolina. The company later introduced seamless panty hose in the 1965, spurred by the popularity of the miniskirt.
According to the latest survey only citizens of the United States of America spend 12 – 14 billion dollars on lingerie and tights.
In august 2003 in New York the first National Underwear Day. It subsequently gained a great popularity in the United States.
Back, neck and shoulder pain can be caused by unsupported breasts. Only a suitable bra can do it.
Bra size changes many times in our life. It can change with weight, hormones, pregnancy, and age. Most women will change in bra size 6 times in their lifetime.
There is no standard size in bra manufacturing. Use size as a guideline. You may know your correct size, but won't know how this corresponds to the sizing the various manufacturers use. You should always try it on, before purchasing.
The amount spent on bras annually worldwide is $16 billion.
The average number of bras the average woman owns is 9. The number of bras a woman wears on a regular basis is 6.
27% of women have decided against buying a particular clothing item because they didn't have the right bra to wear underneath it.
No two breasts are exactly the same size, and it is usually your left breast that is bigger than the right side. However, often the difference is so slight, you'd never notice they are of different sizes.
The loincloth is both the simplest and the most popular form of underwear. It was probably the first undergarment worn by human beings.
About two million women in the United States have breast implants, with 250,000 going under the knife each year. The average age of a woman who gets implants is 34, and 90 percent do it after they have had kids. Most women increase by 2 cup sizes after the implants. But not every woman who underwent implants are always happy with the results: about 6% of women with breast implants return for a size adjustment or to have them taken out altogether.