Did you know, that ... ? [2]
The most expensive swimsuit in the world is a bikini that is worth $30 million dollars. Designed by Susan Rosen and Steinmetz Diamonds, the bikini is made with more than 150 carats of D flawless diamonds which are all set in platinum.
According to a study by bra make Triumph, British women have the largest breasts. 50 percent of British women wear a size D bra or larger.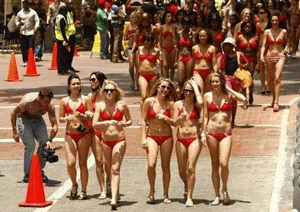 The world's largest bikini parade took place on November 9, 2009. Clad only in bikinis, 287 girls paraded in Johannesburg, South Africa, to raise awareness for breast cancer, which affects one in every thirtieth South African women.

This record was subsequently broken several times. Last time in March 7,2012, when, despite the initial concerns, 450 women dressed in bikinis in Panama City Beach, Florida, USA, created a new world record which entered the Guinness Book of World Records.
In the early 1900s, many American cities created laws that required all women in bathing suits to wear stockings.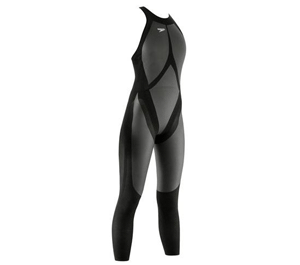 The seamless Speedo polyurethane LZR ("laser") suit, designed in coordination with NASA, has helped swimmers break over 200 records in just 23 months after it was introduced in February 13, 2008. The Fédération Internationale de Natation (FINA) banned the LZR and other high-tech suits on January 1, 2010.
Muslim women can now choose to wear a burkini, which was introduced in 2007 by a Lebanese-Australian designer.
La Femme is an all-female beach in Egypt, away from the prurient view of men and cameras, where Muslim women can replace their long head and body coverings with bikinis without feeling as if they are sinning.
When the first bikini was introduced in 1946, it was marketed as a two-piece swimming suit that revealed "everything about a girl except her mother's maiden name :)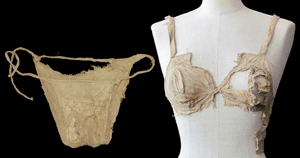 More than 500 years old underwear - bra and panties were found in the floor safe of the Austrian castle Lengberg in East Tyrol in July 2012. It is believed that they have been stored in the castle since 1480. This discovery can rewrite the history of the evolution of underwear.